OFT HORIZON




Beyond the shifting sea lies an ever changing archipelago planet.

Celestial bodies and great winds guide voyages into mysterious, serene, and unknown places.

Adventurers will find one another in the vast stretches of lonely ocean, and rediscover lost lands.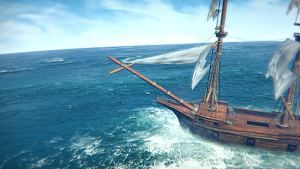 Oft Horizon is an uncharted voyage of longing solitude and the anxiousness, interspersed with moments of adventure and naval combat.
Continuous multiplayer online world (faux-MMO sharding)
Procedurally generated and systems run universe
Diverse play styles
While certainly not a secret, Oft Horizon has not been officially announced yet. Official presskit, trailer, and other information will be coming soon.
Oft Horizon
- coming to PC and other platforms
Oft Horizon: Precursor
- a standalone and early test version of OH (Xbox 360)!
Oft Horizon: Seascape
- a standalone ambient retreat (Xbox 360)
Oft Horizon is being being developed by Eric @xptnd, co-creator of indie game Summer Uprising winner Train Frontier Express, and a coder on a few AAA titles too.



Additional Art and models created by Miriam @mirmyy, previous artist on The Unfinished Swan, and freelance 3D + 2D artist.